How It Works
How does Eradicil work?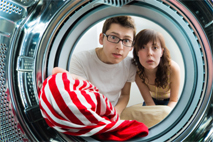 Eradicil is a non-biological liquid laundry sanitiser and detergent that contains three disinfectants and antifungals.
When used in the pre-wash cycle in the washing machine, Eradicil sanitises and disinfects your laundry, eradicating fungal infections, bacteria and germs that cling to socks, stockings and tights, underwear, towels, bath mats, sheets and bedding.
What does 'non-biological' mean?
Biological laundry detergents contain strong stain removal enzymes which can be a skin irritant and can also be very harsh on your clothes.
Eradicil is non-biological meaning that it contains no stain removal enzymes, making it much gentler on your clothes and laundry.
What are the active ingredients in Eradicil?
2-phenylphenol - a disinfectant used in hospitals, nursing homes and food processing plants. It is also used to sterilize surgical equipment.
Chlorocresol is an antiseptic that kills a wide variety of bacteria and fungi and is used in personal care products.
Silver Chloride adsorbed onto Titanium Dioxide reacts with water to release Silver ions and provide an extra level of protection against stubborn fungal infections such as Athlete's foot & Fungal nail.

SHAKE BOTTLE WELL BEFORE USE and use just one capful of Eradicil in the Pre-wash cycle in your washing machine (alongside your regular detergent) and you will eradicate fungal and bacterial infections in your home laundry.
Eradicil sanitises your home laundry and your washing machine, breaking the cycle of re-infection.